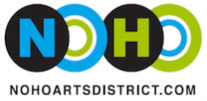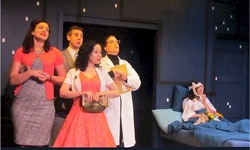 L-R (rear): Heather Lake (Barbara), Sam Tank (Andre),
L-R (front): Juliette Angeli (Karen), Belinda Howell (Doctor),
Far right: Rachel Manna (Joanna)
Thursday, 20 August 2015 08:35
Renewal @ The Brickhouse Theatre
Written by
Samantha Simmonds-Ronceros
Visit:
http://nohoartsdistrict.com/theatres/theatre-reviews/item/3068-renewal-the-brickhouse-theatre
Renewal, Book, Lyric and music by Michael Antin, directed by Jim Blanchette
The weather was hot and steamy last week in LA and it was a hotter still last Friday night at The Brickhouse Theatre when I had the opportunity to see this terrific musical, Renewal. But the production of 'Renewal' made the discomfort of the stifling heat well worth it, although I was grateful to be sat beneath the AC vent I can tell you!
The Brickhouse Theatre in NoHo is one of those smaller stages in LA where just about anything can happen, and usually does.
I had no expectations about this production, the show is new with only one previous short run in New York. But I have to tell you I was pleasantly surprised by the enthusiastic and polished performances, the 'retro' staging and the fabulous vocals of this wonderful cast.
The story is centered around our leading lady Joanna.
An accomplished and successful Broadway star, Joanna is all set to fly away to Italy for her wedding to her Italian sweetheart leaving her career behind her, when fate steps in and she is hospitalized with terrible facial scaring after her taxi crashes on her way to the airport.
Her fiancé abandons her and it is left to her mother, her best friend, her psychiatrist and her shifty agent's doting assistant to help her through her long and difficult recovery.
Renewal is about finding out what is truly important in life, and who…
The production is chock full of memorable and fun songs, great performances and hilarious turns by some wonderful character actors. Some find love, some find fame and some find themselves.
All in all this is a really fun night out. We should support this kind of theatre in LA. A new show with wonderful actors in a great neighborhood theatre. This is what NoHo is all about!
I highly recommend 'Renewal'
at The Brickhouse Theatre 10950 Peach Grove Street, North Hollywood, 91601
The Show runs from August 7 through 30th
Friday and Saturday @ 7:30PM and Sunday @ 2PM
Cast
Juliette Angeli, Belinda Howell, *Kyle Kulish, Heather Lake, Rachel Manna, Linda Nile, Sam Tank, and Wally White (*appears courtesy of Actors Equity Association)
Crew
Cameron Stark, Ava Soltani, Auden Granger, John Lant, Tamara Pica, Jonathan Harrison, Anne Mesa, Jim Blanchette, Carlo Maghirang, Angela Acuna, Kurt Sinclair.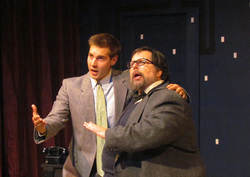 Sam Tank (Andre) and *Kyle Kulish (Goby Richards)