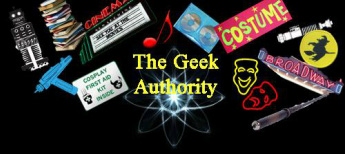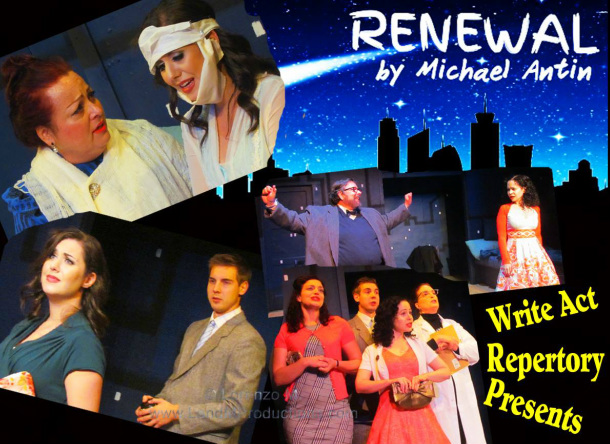 The Geek Authority
with
Wally White
and
19 others
THEATRE REVIEW #302 – Renewal
""Renewal" Is A Funny & Whimsical Musical About Turning Your Life Around –Broadway Style!"
Written By Lorenzo Marchessi - Aug 19, 2015
With the book and music written by Michael Antin, "Renewal" is a fresh new musical that debuts here on the west coast at The Brickhouse Theatre in North Hollywood - and is produced by the Write Act Repertory company. It's the story of a Broadway starlet that just happens to survive an accident and it's her journey into re-inventing herself while maintaining her personality, talent and integrity throughout!
Smartly directed by Jim Blanchette and produced by John Lant and Tamra Pica this musical is fast paced, simple in story but contains some lively characters and some wonderfully clever songs and lyrics that will definitely make you laugh out loud! Along with cleverly design and colorful costuming by Ava Soltani, this is a musical with a small message of comeuppance but does it with a big heart and has a few big winners by the end.
Rachel Manna plays Joanna the starlit of the theatre company whose pride and ambition are to always be in the spotlight of the theatre as the star of every show. Rachel has a wonderful singing voice and temperament to make you understand that she really loves what she does, but doesn't cross that narcissistic line of being too obnoxious (most of the time – wink, wink). Her songs, "I'm On My Way' and "Hold Me", really personifies her wonderful vocal talents and starlet personality traits.
Juliette Angeli is Karen the feisty and spark of energy actress who has her own ambitions and style to show the world. Juliette is so much fun to watch. Her comic timing and absolutely vigor is too much fun to watch and with her amazing voice she knows how to get her messages across! She hits a home run with her song "How To Be A Star" and really sparkles with her duet with Rachel called "11 O'Clock Number".
Kyle Kulish is Goby a theatrical talent agent with some of the nasty habits and manners you'd never want to meet. I can tell Kyle is having a blast as his arrogance and greed get the better of him and it makes for some great comic moments that will have you laughing out loud. His song "Bitch" is hysterically fun and timed to perfection as you actually hear sound effects that replace the title of the song as he sings it. Very clever! His duet "You Got To Trust Me" with Sam is a fun romp of energy and comedy that each are having fun with!
Heather Lake is Barbara a fellow 'BFF' and equally talented co-star on stage with Joanna but is enticing and full of visceral energy as she, Barbara, just lights up the stage with her attitude and flare of a personality as she parades her wishes to everyone and even her best friend. Her song "Cat's Meow" will have you purring with comical delight and her duet with partner Jake showcases her incredible singing voice in the song "Mixing Messages" – it will have you toe-tapping along with the two of them!
Linda Nile is Mother (Rachels' Mother) who gives all the heart, energy and 'push' (lot's of push) that any mother would give, so much so that when an accident befalls her daughter Joanna - she wants to guide her to the next chapter of her life, whether she wants it or not. Linda is having a blast with this character and is truly a comedy hoot to watch her. Her brash and boldness really shines with her song "You Are My Daughter" but it's her sentimental song with Rachel, "Reach To High" that will grab you by the heartstring and pull, because of her beautiful voice.
Wally White plays Jake a unsuspecting prospect who falls for the most unsuspecting actress and best friend of Joanna, Barbara. He also does a wonderfully mysterious performance as the 'unseen' but 'seen' father of Joanna. Wally is smart and has a great sense of comic timing and his on stage chemistry with Heather is way too much fun to watch – especially when they first 'find'/meet each other and then every scene thereafter.
Sam Tank plays Andre, the kind and often shunned-aside assistant to Goby the agent. Sam is spicy and full of energy and has some wonderful heartfelt moments as he learns of his affections for Rachel. His two sentimental solo's "Constellation" and "Joanna" pretty much some up his feelings and intention both at the beginning of the play and at the end. His young romance becomes true and clear by the end of the play.
Belinda Howell plays the Doctor. Belinda is straight laced, serious and often shunned in her efforts to help heal Rachel's character after the accident and her road to recovery Her ensemble song she sings in "Best Interest" clearly states her characters work ethic and priorities and I can tell Belinda is having a great time just trying to be heard!
Something fun and funny with a wonderful musical flavor of love, distrust and more love, "Renewal" - is an energetic and enchanting adventure of a Broadway star whose fallen – and risen, to come back in a very different way! The Brickhouse Theatre in North Hollywood is the amazing west coast premiere of the new musical romance, "Renewal". Check them out at
www.Renewal.WriteActRep.org
and tell them Lorenzo Marchessi of The Geek Authority sent you! (
www.Facebook.com/TheGeekAuthority
) .
©2015
TheGeekAuthority.com
& ©2015
LandMProductions.com
https://www.facebook.com/TheGeekAuthority
Pic 001 – Top Left – Linda Nile, Rachael Manna – Bottom Left – Rachel Manna, Sam Tank – Center - Kyle Kulish, Juliette Angeli – Bottom Center - Heather Lake, Sam Tank, Juliette Angeli, Belinda Howell